Cheendana

Also available:
Massage
Services

including

Massage Therapy
& Craniosacral Balancing

Maya Abdominal Massage

Breast Massage

Deep Tissue
Massage
Yoga Classes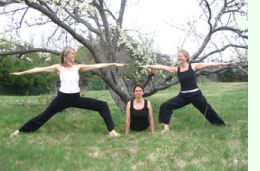 Thursday Morning Yoga
Cheendana
Avalon Gardens, 1199 Russia Road
14 weeks starting September 11th - December 14th
All levels Class, slow and deep flows with the rhythm of the season and the rhythm of the breath as our tempo
for surrendering to the long exhale of autumn.
chee@somagardens.com or
902-538-8544
SUNDAY YOGA
with
Guest Teacher

the rhythm of the body,
the melody of the mind,
and the harmony of the soul,
create the symphony of life."
"Yoga is a mirror to look at ourselves from within."
B.K.S. Iyengar
In deep gratefulness to my teacher B.K.S. Iyengar who died on August 20.
Summer is still in its full flow and i hope you are enjoying every bit and piece of it !
Yet - September is waiting around the corner and with it i would like to start a new series of the "legendary" Sunday afternoon Gentle Yoga Classes.
The first class will be on Sunday, September 14, 2014 at 5 pm.
The class is for all ages and all levels. During 90 minutes of gentle stretching and conscious breathing we journey deep into our bodies to emerge refreshed and rejuvenated.
The rhythm of the class is slow but strengthening.
Namasté
Single class $ 10

5 classes in advance $ 45


Cheendana (Lorie-Ann Martin)has been a yoga practitioner for 20 years. In 2006, she received her certificate as a Yoga Teacher Training with Helen in the Anusara influenced approach.

Cheendana offers a balance of asana(postures), Pranayama(breath) and meditation in her classes to guide people to listen deeply to ones being and to be reminded of the peace and awareness that is already so present in each of us. The themes of her classes follow themes thru the season adapting our practise and lifestyle with the seasons. Thru the integration of body, mind, heart and soul we find deep inner PEACE and connection with our journey here on the earth which in turn ripples out to the world.

Cheendana has been a Massage Therapist since 1985 and has been practising Craniosacral Balancing since 1992. At present she practises out of Berwick and out of her home. She is also an at home Herbalist and Gardener....which at this time is being expressed as developing a five element teaching garden located at her home in Black Rock where she hosts yoga, massage, dance and herbal events during the summer months. She also teaches Maya Abdominal and Uterine Massage. You can check out her website at www.avalongardens.ca for more information.