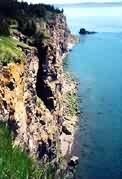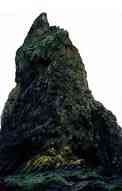 Retreats
Vision Quests
Wilderness Trips
all photos
copyrighted
Cape Split 1
All the images in the left and right columns can be clicked to view their full size.
I've been hiking and camping at Cape Split ever since my English-German teacher, Albert J. Carter, took me there on a school hiking trip back in 1963. I never get bored of it, and I've been there 200 times or more. Back then, I would rarely see anyone else out there, maybe on the weekend, the odd person. Now there are lots of folks out there throughout the spring, summer and fall. Winter, however, is still a great option to be there alone.
My favourite spot is on the beaches at the very end. Even when there are 100-200 people out there, I seldom see anyone at the end on the beach. Too bad... as that is where most of the beauty and the action is! I love camping out there. There are a couple places where the tide doesn't reach, altho you need to pay attention. It's a very powerful experience to be there for a few days, watching and listening to the tide going in and out. This is a place to sooth your soul! There is no better therapy than spending time alone out in the wilderness! Most of the important decisions I've made in my life have been made out there. Visit what I call my Vision Quest cave or my Vision Quest seat (see photos). You can also climb to the top of Glooscap's throne - the pinacle (dangerous - and only do it early in the year or late, as the seagulls hatch and raise their young here and should not be disturbed!) I've spent many full moons in these 3 places... phenomenal experiences always!
I have a lot more to add in this section on Cape Split... and I want to think about it for a while before I give away all my secrets!
Be sure to visit the fundy tides page written by Dr. Roy Bishop... some great info!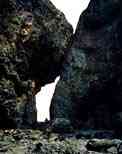 all photos
copyrighted